Happy Monday everyone, I'm excited to have a new quilt to share with you all today!
Yesterday, just before Easter dinner, Kevin and I slipped away to a pretty spot in town to take photos of my newly finished
Rapture
Quilt. It was such a beautiful, sunny day which certainly made for pretty, yet extra bright photos!
This quilt is made in my "
making rows
" style of piecing, similar to the approach I used for
this favorite quilt
I designed for my son Kaiden. Rather than creating an assortment of quilt blocks, I simply make rows in the length of my desired quilt, keeping symmetry and balance. My favorite parts of this one are the strips of solids I added to break up this soft-hued Rapture collection. The ultra sweet color palette is so Springy, such a perfect finish for this time of year!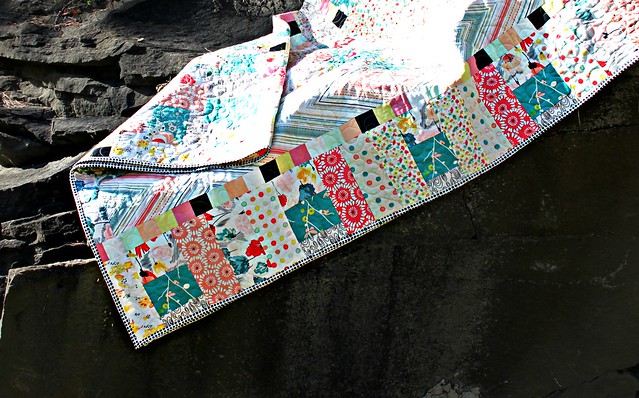 Inspired by
Rapture
's Windswept print, I sent this one off to Melissa,
Sew Shabby Quilting
, to long arm quilt with her
loops & swirls pattern
. I'm so happy with my choice and am always so impressed with Melissa's work!
This quilt is bound in Art Gallery Fabric's Squared Element in Noir, to highlight the black bits of this quilt that I love so much!
For the back I went with my most favorite Rapture print, Wild Beauty in Pineapple, saving one row of patchwork to add in, as well!
While snapping photos of my quilt against the ashy woods and rock, if I focused in just enough, I could see little peeks of green sprouts on a few of the branches and beneath the layer of last Fall's leaves. It was encouraging to see!
Today we'll be celebrating my son Jacob, who's turning ten! I wish you all a wonderful day & happy sewing!!