Immediately after finishing Haila's pretty drawstring bag, I collected the odd
Fleet & Flourish
,
Tapestry
fabric, and
AGF Denim
scraps scattered throughout my sewing room floor and turned them into a sweet matching pillow. I carried on sewing with the same herringbone pattern and added lace embellishments that I have loved using so much lately!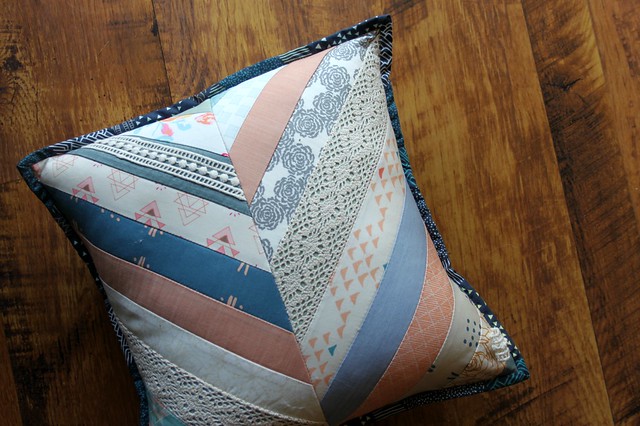 It's a cute little pillow, barely fitting the 14" pillow insert that's stuffed in there so tightly, but I'm sure over time, after a little use, it will look just perfect! I always make my pillow covers a little smaller than the size of the pillow insert I plan to use. They always settle a little and I love them to stay looking nice and full!
Nothing went to waste in the making of this quick project - even the pillow back is finished with more scraps and a little linen.
For the binding I used the very last of that BIG role of
Hello, Bear
Summit in Twilight binding I made a few months back. I love the combination of each fabric & trim that makes up this pillow,
pretty, pretty
!
I especially love it paired with the Fleet & Flourish pillow I made for last year's Fall Quilt Market to showcase my Miniments and Lace in Bloom prints.
Doesn't in make a lovely set
?
I think they look so beautiful together, tossed on the Anthropologie
Victoriana Silk Throw
blanket that I received for Christmas last year!
I've been working,
slowly
, on building up my handmade inventory in the hopes of having a local pop-up shop around the holidays or possibly here online, and both of these pillows have been added to the pile!
♡ Maureen