Most of the
Nightfall fabric
samples my friends and I have made for Quilt Market combine prints from both colorways, Moonrise & Moonset, with a substantial amount of solids and denim added in to each project since the size of strike off pieces are limiting. I love the addition of all the denim! But when a second set of strike off samples arrived the other day, I finally had enough to make a few things with no need to add in any blenders at all! At this point, it was only the shortage of sewing time that narrowed my options. So, I decided to stick with my favorite, fast, and faithful herringbone
quilt-as-you-go
! I separated colorways to make one big pillow in Moonrise and a second big pillow in Moonset, and I love the result!
To make each 20" square bound pillow, I started with two batting rectangles measuring 10½ " x 20½" and 2¼" long strips of each Nightfall print, beginning with Moonrise!
Then with Moonset!
I teach how to make these blocks into both pillows and quilts in my Craftsy class,
Quick Quilt As You Go!
They are so much fun to make, I always want to keep going until I have enough to make a quilt. I didn't have the time with these, but now I can see what a pretty Diamond Strings Quilt these would be and have made it my plan for when I return from Salt Lake City!
Each pillow is backed in my Mystical Woods Canvas, is bound using the same Essentials II gold stripe I used to finish my Owl QAYG quilt, and showcases a Nightfall colorway, minus the owls!
Once these two large pillows were finished up, I decided to whip up a quick, scrappy, mini 12" pillow!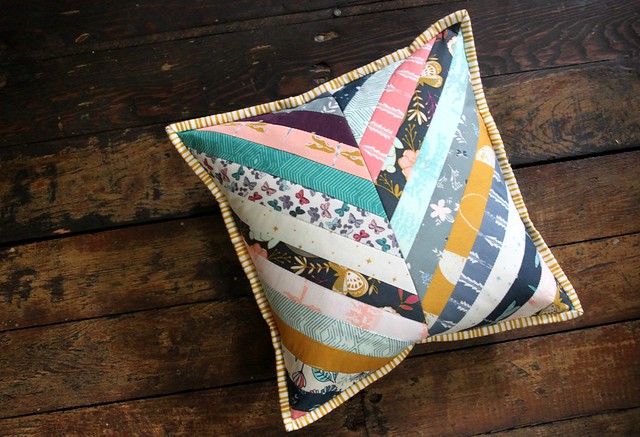 And with that, is the last of my Nightfall Quilt Market prep sewing & posts before the big show! I've really enjoyed sharing so much of what I've been making with all of you who take the time to stop by & who so sweetly encourage me to keep dreaming big, I can't believe where all this has taken me! I started packing over the weekend and leave tomorrow afternoon. This trip is another first for me, since I'm flying solo this time around. I'm quite nervous, but am so excited at the same time! If you're attending the show, be sure to stop by the Art Gallery Fabrics booth to visit. Otherwise, I'll be back as soon as I can to share how it all comes together!
XO Maureen