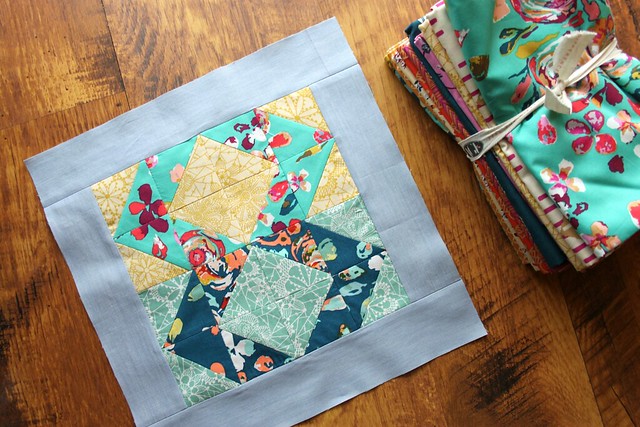 Late last week I decided to give into my urge to make two versions of our Sewcial Bee Sampler quilt, the community sew-along
Sharon Holland
and I launched last week! The first block, Patience Corners is so fun and simple! Using the make eight-at-a-time HST method it comes together quick, taking under an hour from start to finish. Surely, I thought, I could fit in two a week. Add to this the beautiful new stack of
AGF's Boho Fusions
that have been calling me since they arrived. How could I resist?!
In case you missed last week's
Sewcial Bee Sample Intro
and
first pattern releases
, I invite you to look back through my last few blog posts for all the details. It's never too late to join in the fun! Each Wednesday we're releasing a new, fully tested PDF block pattern, followed by a fun Giveaway on Friday's both on our blogs and Instagrams. The response and participation has been incredible, especially on Instagram in the hashtag pool,
#SewcialBeeSampler
. I LOVE seeing all of the different block variations being shared!
In addition to my sampler blocks, I've been slowly working on my Collection Quilt blocks, using the
Winter's Garden Quilt Block Tutorial
I shared last month! I've noticed a few of you have joined me in making these, and it's such a pleasure to see that some have made major progress! Me,
not so much
, but I do have two new blocks to share today featuring prints from Nightfall, Fleet & Flourish, and Wild & Free!
Tomorrow I'll be back to share our Sewcial Bee Sampler Block No. 2! If you're not joining us on Instagram, but have been blogging your blocks and have a post(s) you'd like to share, be sure to add the link in the comments so I can visit you!
♡ Maureen