I'm so excited to have finished and photographed this newest version of my Winter's Garden Quilt!
This one is made using Bari J.'s
Emmy Grace collection
and a rainbow of Art Gallery's Pure Element solids!
I had originally planned to recreate
my first Winter's Garden Quilt
to draft the pattern, but once I began I just couldn't commit to making that same exact pattern with these fabr
ics.

Right away interesting design changes

kept

coming to mind while I worked

. I ended up giving in to just one idea, to patchwork my sashing with the
Emmy Grace low volume prints. I love the look of soft, low volume patchwork so much more than using just one light print or solid as a background fabric!
Next I decided to frame each of my blocks with narrow strips of Pure Element solids
in a variety of colors
that would play nicely with Emmy Grace. As a result,
a completely different pattern
emerged that I love even more than the original design I created!
I chose Bari J.'s gorgeous Emmy Grace voile print,
Budquette in Nightfall
, as my quilt backing. At 52" wide, the added length of Art Gallery Fabric's voile makes piecing together a quilt back so super quick & easy!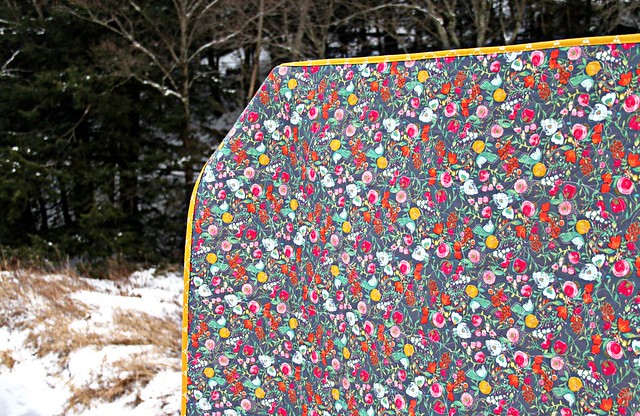 I really wanted this one to be quilted with a beautiful floral design, so I splurged to have it long arm quilted by my go-to girl, Melissa of
Sew Shabby Quilting
. I chose the pretty
Emily
flower & leaf pattern from her
stitch catalog
and, for the first time, chose her Quilter's Dream 100% cotton batting. WOW, am I ever thrilled with how it turned out!!
Now I know I say this all the time and then my plans fizzle for whatever reasons, BUT I really, really hope to release this patten sometime soon! This year, one of my BIG goals is to focus on my pattern work. Your interest and encouragements always drives me to work harder, so if you happen to be int
erested, please do let me know!
Thanks!
♡ Maureen